First of all, Necklaces are truly finishing pieces.
An eye-catching statement necklace can easily add character and charisma to simple outfits. While a necklace with minimal look can also add interesting details to your outfit, indicating the silhouette of your personality.
No matter whether you are picking a necklace for your date or creating a layered look for weekday, start with choosing the right length.
Illustration of different necklace lengths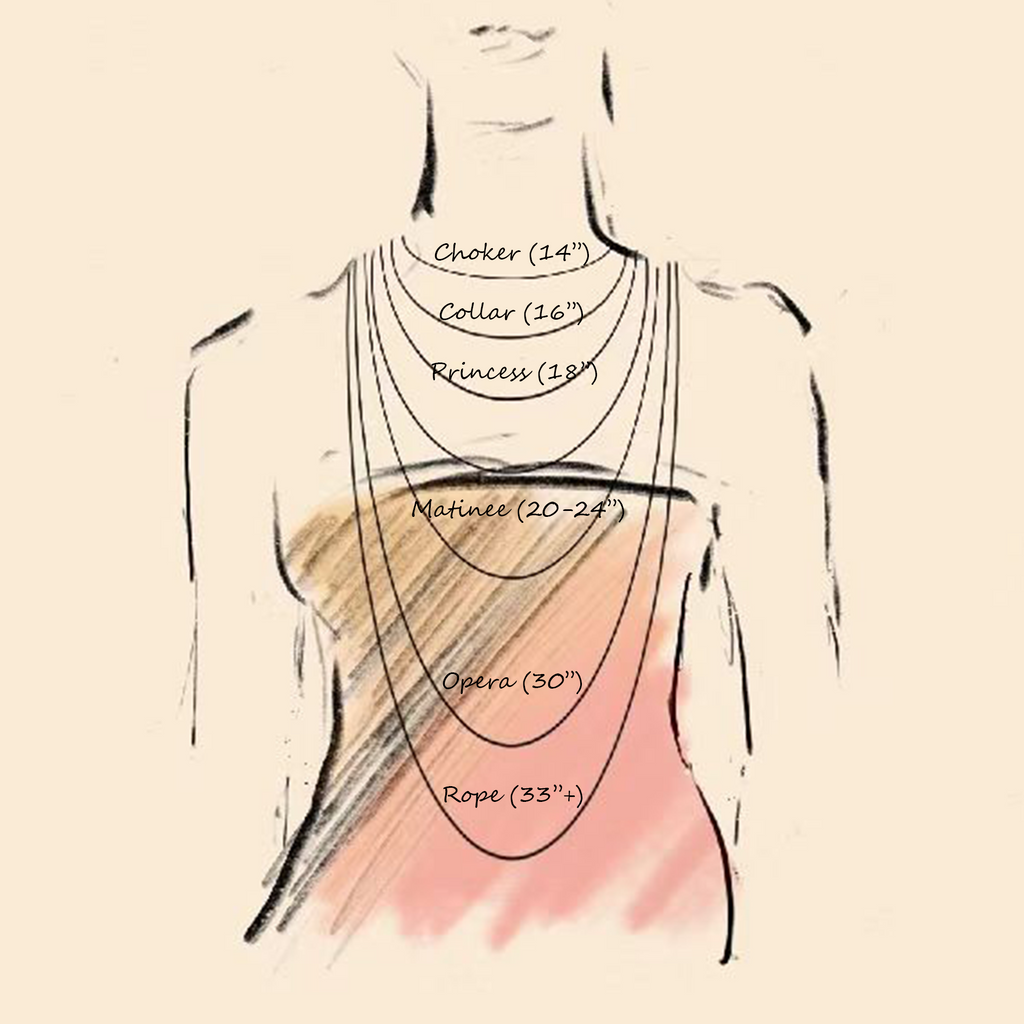 Choker (14'')
Choker sits closely around the middle of your neck and can smoothly moves around. Choker necklaces can be a great fashion jewelry to help you outstand when selected and paired correctly.
Outfit Suggestion: A choker fits especially well with strapless, scoop neck and square neck tops. These necklines can highlight your curves and draw attention to your neck.

Style Inspiration: A Choker necklace can be worn alone to form a minimalism look, or layered as a cornerstone piece in a curated look.

Everyday Choker Necklace Recommendations from SAND Jewelry.
Collar (16'')
Collar fits snugly at the base of your neck, where most collars on button-down finish. As collar necklaces are trendy these years, they can help you create a chic and fashionable look pretty easily.
Outfit suggestion: Collar necklaces are the most versatile jewelry, working perfectly with all necklines. The only concern is that it may look a bit casual, so you may choose a matinee or opera necklace for formal events.
Style Inspiration: collar necklace is a perfect choice for your fashion jewelry collection; you can wear it for any occasion or moment. A collar necklace could be the everyday necklace that you'll never want to take off.
Everyday Collar Necklace Recommendations from SAND Jewelry: we offer you with the collar necklaces of exceptional quality and durability, that could meet all your requirements for an ideal everyday jewelry piece.
Princess(18'')
Princess necklaces drop down to the upper-chest area. You'll find many statement necklaces and pendants dangling at this length.
O

utfit Suggestion: It is easy to pair your princess necklace with a crewneck or square neck top. Also be careful with the shape match; the shape of your pendant is supposed to match that of the neckline

Style Inspiration: Princess necklaces are no less versatile as the collar ones, but they usually look a bit more formal. They can bring final touch to a black-on-black outfit or add extra depth to a colorful look. Pairing modern princess necklaces with aged pieces that have a history can create a look full of character.

Everyday Princess Necklace Recommendations from SAND Jewelry: Most of SAND necklaces can be adjusted to this length via the extension chain, which adds more pairing and stacking possibilities to your outfit.
Matinee (20-24'') 
Matinee necklaces usually hits mid-chest; many beaded necklaces and longer pendant necklaces fall into this category.
Outfit Suggestion: Matinee necklace looks best with turtleneck and boatneck by itself; While layered with other pieces, it is surprisingly versatile and adaptive.

S

tyle Inspiration: Indicated by its name, Matinee necklaces mostly constitute a casual afternoon look. SAND jewelry has a collection of modern matinee necklaces with geometric pendants to help you be a bona fide jewelry curator.

Everyday Matinee Necklace Recommendations from SAND Jewelry: A part of SAND jewelry necklace could reach this length with extension chain.
Opera (30'')

Opera necklaces can reach below the breast and are perfect match for more formal dresses. They are usually not the first chocies for everyday jewelry, netherless SAND jewelry is preparing a collection for you to stack and layer. Coming soon.
Outfit Suggestion: considering its length, we would recommend formal frocks to match your opera necklace. while for stacking or layering, curators' creativity knows no boundary.

Style Inspiration: With respect to fashionable jewelry styles, opera necklaces seem a bit too formal. We suggest layer it with other shorter necklaces to create an elegant or artful style, for a date in a decent diner, maybe.
Rope or lariat (33'' and longer)
Extra-long necklaces hang near the waist and you may need to loop it to adjust the length.
Outfit Suggestion: there are numerous ways that how you can wear or stack your super-long necklaces, and so are the outfit options.

Style Inspiration: For extra-long pearl strands, we recommend variant wearing styles, including but not limited to knotting, twisting or pinning.

Everyday Super-long Necklace Recommendations from SAND Jewelry: Despite most super-long necklaces are not good fit to an everyday outfit, SAND Jewelry manages to use lightest and dainties design to moderate. And thus create a more modern fashionable super-long necklace style.
Notes from SAND Jewelry:
The listed necklaces of SAND jewelry mostly fall between choker (14'') to Princess (18''), representing the majority of favorable fashion jewelry necklaces in recent days. But we always maintain a highly selective long necklaces collection, in case of your special need.
Have fun exploring and creating your own jewelry style!